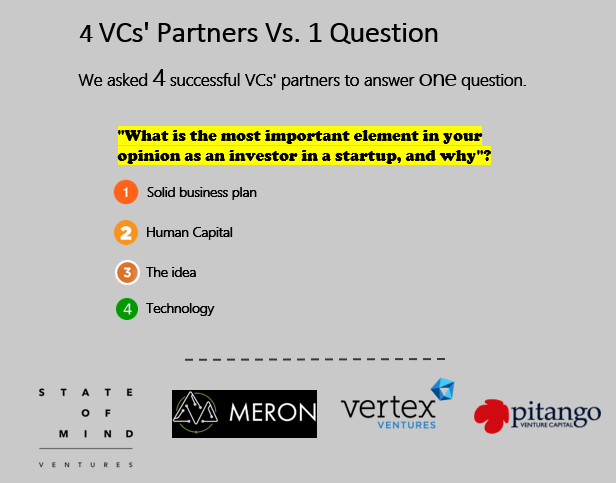 Liron Azrielant, General Partner at Meron Capital
Meron Capital is a $70M early stage fund focusing on Israel and the US. The fund launched in December 2016 and has made five investments – two of which in Israel: Loom and Craft. Meron's areas of focus are Enterprise Software, Cyber Security, IT Infrastructure and Healthcare IT. 
Liron's chosen answer:  No. 2 – Human Capital
You've probably heard this before, but the team is by far the most important element in a startup. Most great ideas have more than one team attempting to accomplish them, so the most important attribute a startup could have is a team that is better equipped to design, implement and sell their idea than 99.9% of all people. Some of what I will look for in a team might be very generic – high intelligence, sound, strategic thinking, business acumen and a strong passion. However, some attributes might vary based on the specific startup. A team creating a complex, technological product must have deep technical skills in their area, however, a team creating a marketplace or a consumer product must have deep product design, marketing and growth-hacking expertise.
Moreover, as a seed stage investor, I will work with the team I invest in for many years, and many teams might pivot or change their path during the process. This requires a rock-star team to also be flexible, open to feedback, willing to question their assumptions and easy to work with. This way, even if the initial path changes, the team remains best suited for it and I can effectively assist them in the process. 
Rami Beracha, Managing General Partner at Pitango VC
With over $1.8 billion under management and investments in over 210 companies –  Pitango is Israel's leading Venture Capital Fund.
Rami's chosen answer: No. 2 – Human Capital
The 3 elements (entrepreneurs, ideas and technology) are important and inter-related. A good entrepreneur will make the idea and the technology great (ideas and technology are stem, grow and evolve throughout the life cycle of the company and a good entrepreneur will know how to make the necessary adaptations). It does not necessarily work the other way around – a good idea and technology at the company's starting point does not necessarily provide for a promising entrepreneur 
Nir Adler, Partner & CFO at State of Mind Ventures
State of Mind Ventures is an early stage venture capital fund, focusing on the people that drive our world forward. The VC is looking for founders that are daring, hungry and have big ambitions. SOMV is looking to partner early with innovative teams of over-achievers, and be there with them, as they shape their vision, build their teams and take on the world.
Nir's chosen answer: No. 2 – Human Capital
Investing in an early stage startup is not a financial investment but a decision to partner with entrepreneurs. I believe the VC role is to empower founders to become the best leaders they can evolve into. Great ideas, state of the art technologies and super sophisticated go to market – are all based on people.
Emanuel Timor, General Partner at Vertex Ventures Israel
Vertex Israel is an early stage leading Israeli venture capital fund. Over the years Vertex invested in more than 100 companies, including Waze, CyberArk and SolarEdge. Vertex Israel is part of a global network of venture capital funds, operating in the Valley, south east Asia and China.
Emanuel's chosen answer: No. 2 – Human Capital
The founders, the team they gather and the DNA they create in their company is the most important element for us at Vertex. We know that start-up can be a very long journey. For sure it will have its ups and downs and the technology, product and market may change along the years. That's why for us it's all about the people. And the team's ability to adjust, listen to the market and meet those challenges. We want to partner with entrepreneurs that will be leaders in their fields.
The winning answer is answer No. 2: Human Capital.
Choose your team wisely